Jewel Blade News
DOMOTEX 2018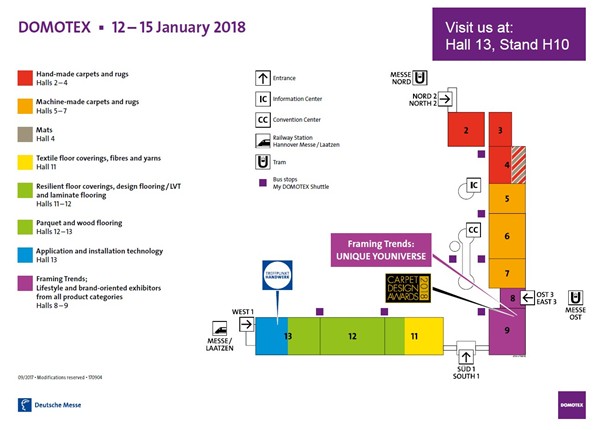 2018 will see Jewel Blade return to Hannover, Germany where they will exhibit at DOMOTEX – The world's leading trade fair for floor coverings for the sixth consecutive year. In the New Year from 12th -15th January 2018 Jewel will showcase their products at what will be a new look DOMOTEX boasting a new layout with optimised hall restructuring that see's Jewel Blade located in Hall 13, Stand H10. Visitors travelling in by rail will have direct access to the doors of Hall 13 via skywalk from the Hannover Messe/Laatzen.
Jewel will be looking to build upon previous year's successes using DOMOTEX as a platform to promote their brand and products for the flooring industry including their XL Premium Silver & Gold Blade Range, Professional Knives & Cutters and their ever increasing range of blades for the textile and fibre industries.
The innovative XL Premium Silver & Gold Range of blades are designed, developed and manufactured by Jewel Blade in Sheffield England to the highest of industry standards using a high quality Premium 1.25% Carbon Steel. Jewel Blade are the ONLY UK MANUFACTURERS to use this premium quality steel to produce blades for use in the flooring industry. This superior steel can be heat treated to a higher tolerance effectively increasing the hardness and consequently improving both the sharpness and durability of the blades. In addition Jewel Blade's XL Premium Range also benefits from being surfaced finished which further enhances cutting performance. Not only does this superior polished finish improve the blades appearance it also provides rust inhibiting properties to ensure a greater resistance to wear, with an increased slip factor reducing the amount of friction generated leading to a longer lasting product.
The XL Premium Silver range with its razor sharp cutting edge is designed to be up to 4 X sharper than standard 1% Carbon Steel Blades. With its polished finish enhancing the blades slip factor there is a reduced amount of drag making these blades ideal for professional fitters who require increased precision and control with less effort when cutting through the toughest of modern day materials such as LVT and Carpet. The XL Premium Silver blades stay sharper for longer subsequently reducing user handling which in turn reduces the risk of accidental injuries and tool downtime ensuring a more productive and cost effective blade.
The XL Premium Gold range boasts a Titanium Nitride (TiN) Coating which enhances the durability of the blades cutting edge, improving performance by up to 8 X making it GREAT for use when cutting those more abrasive materials like Heavy Duty Safety Flooring, Plywood and MDF. With fewer blade changes minimising tool downtime the XL Premium Gold is ideal for Contract Flooring Professionals with more time spent on the job in hand, providing the fitter with a higher yield.
Established for over 90 years, Jewel Blade Limited is a world leader in the production of high performance precision blades for use in various industries. The UK manufacturer is located in Sheffield, England at the heart of the GREAT British steel industry and is justifiably proud of its long history and unique manufacturing facilities. On-going investment in research, product development and technology, combined with a high level of customer service backed up by an extensive network of overseas distributors, has ensured that they continue to grow and develop as a company exporting to over 52 countries worldwide and manufacturing approximately 130 million GREAT British blades per year as they remain at the forefront of cutting edge technology.

Make sure you visit us in Hall 13, Stand H10.