Home >
Industrial Blade Buyers Guide
Buying The Right Industrial Knife Blades: Avoid Blunting and Downtime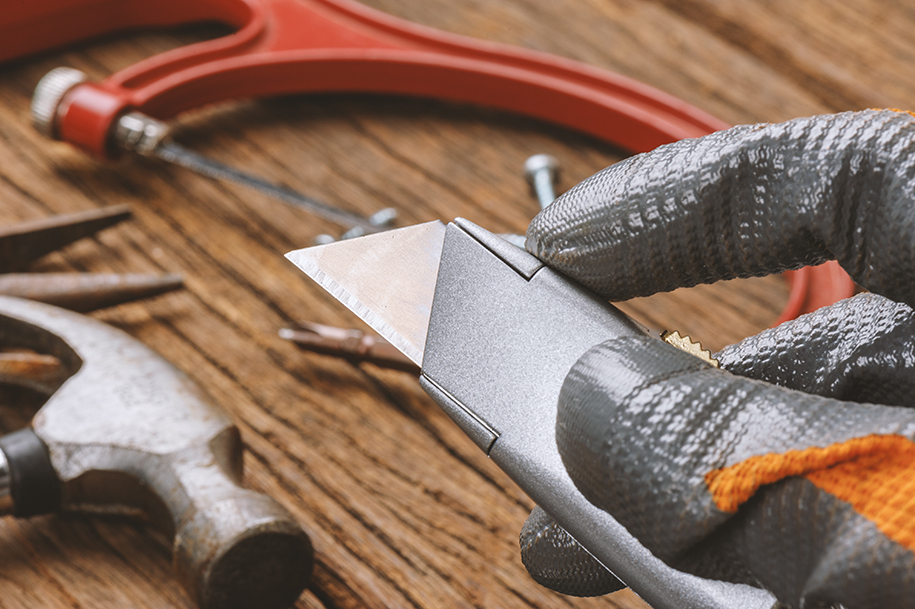 Within this guide we share expert advice on commonly bought and used types of industrial knife blades including trimming utility blades, hook, concave and snap-off blades. This guide is for you if:
You are considering buying industrial knife blades online.
You are not sure which blade shape will serve you best.
Want tips from trade experts on how they use industrial blades.
You want to ensure quality workmanship and happy customers.
You want to reduce lost time and reduce the potential for sharps injury's.
A Quick Introduction
Jewel Blade is a UK manufacturer of industrial blades supplying customers in many industries and across the world. As part of the W.R Swann Group, we invest heavily in technology to provide our customers advanced medium and heavy duty carbon steel blades.
Our carbon steel blades are tested by some of the top experts across industry: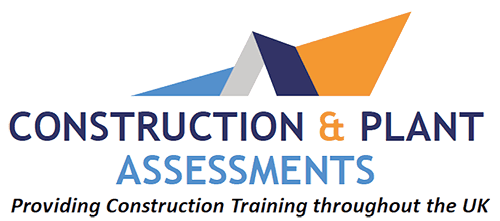 Our latest manufacturing innovation is the high quality XL Premium Silver & Gold ranges. This guide isn't about those products specifically, but you might want to look them up before you consider buying online or via your usual trade supplier.
Our XL Gold range is designed to improve blade durability and performance with our Silver range designed to help improve the blades cutting edge (by up to 4 times that of standard carbon steel) as well its longevity.
Our Guide's Trade Experts
To help write this guide, we enlisted the help of industrial blade buyers from many walks of life:
What We Discuss
We cover the following topics.
What is an industrial knife blade?
The best heavy duty / industrial blade knives
What blades do the trade use and why?
Our expert's interview and our recommendations
Why quality blades are so important
What to look out for when buying industrial blades online
Useful to know
The guide also provides expert tips for:
Blade care
Keeping blades rust free
Blade safety
Blade storage
Blade disposal
---
What is an industrial blade?
An industrial standard (heavy-duty) carbon steel blade is used in cutting applications requiring force to be applied by the user and that fits securely within a utility-style knife handle.
The strong steel blade delivers a clean, precise cut through a variety of materials, such as: packaging, flooring, roofing, DPCs, silicon, plasterboard, weed membrane and plastic strapping. It is also a useful tool for creating a neat, finished edge on plastic piping and decking board.
---
Types of heavy-duty industrial blade
There are several types of blades designed for heavy-duty, industrial and commercial use, each designed to suit different tasks and user preferences:
What Are Utility Trimming Blades?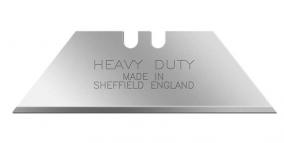 The most commonly used heavy-blade is a straight utility trimming knife blade. It has a straight, triangular point with a single cutting edge and can be used for a multitude of general cutting or scoring purposes. Each blade has two ends, while one end is in use the other remains stored safely within the knife handle, ready to rotate when the first side becomes blunt.
What are Snap-off blades?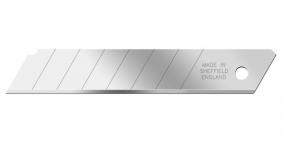 Snap off blades are another popular type of general use blade. These are long, retractable blades which are housed within the knife handle. As the blade edge becomes blunt, the blade can be snapped off along pre-scored grooves to create a fresh, sharp cutting edge.
What are Hook blades?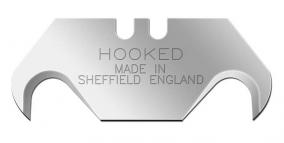 Hook blades are most commonly used for carpet fitting as the curved blade is designed to hook beneath and slice through the tough flooring material. This type of blade can also be used for cutting roofing felt. Again, the blade is double ended to extend its use.
What are Concave blades?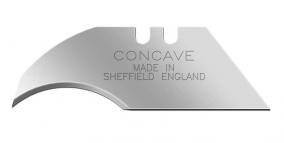 Concave blades are also used in the flooring industry, specifically for cutting vinyl and luxury vinyl tiles (LVT). The fine edge provides greater accuracy for a perfect finish.
---
---
What knife handles are compatible with heavy-duty blades?
There are various different knife handles that are compatible with certain blades, here are typical examples of knives designed to suit commonly used blades:
---
What blades do the trade use?
Heavy-duty blades are widely used across all areas of industry for general-purpose cutting, scoring and specialist applications bespoke to specific trades.
To discover how heavy duty blades are used in different trades, we spoke to experts across a range of industries.
What our experts said

At a glance guide to blade use across the trades

Trade

Blade type

Uses

Flooring

Flat edged 'straight' utility trimming blade

Cutting safety flooring
Cutting carpet, underlay and carpet tiles
Cutting vinyl and luxury vinyl tiles

Landscape Gardening

Trimming splinters from decking boards
Sharpening pencils
Cutting strimmer cord
Shortening hosepipe
Slicing weed membrane
Cutting plastic binding straps
Scoring timber
Opening plastic and cardboard packaging

Plumbing

Cleaning silicon off tiles and ceramic
Cutting tie wraps
Cutting wire
De-burring plastic piping
Sharpening pencils
Opening and cutting down packaging for disposal

Craft, Art & Design

Flat edged 'straight' utility trimming blade

Cutting mount board
Trimming cardboard
Resizing original artwork
Opening packaging

Precision cutting mount board using specialist machine

Property Maintenance, Painting & Decorating

Scoring and cutting plywood
Trimming silicon sealant
Scraping off paint
Opening packets
Sharpening pencils

Cutting flooring
Cutting around pipes and awkward corners
Stripping wire

Construction & Roofing

Cutting damp proof courses (DPCs) and damp proof membranes
Slicing through plastic straps on pallets of bricks
Cutting rubber roofing and roofing felt
Opening packaging
Scoring and cutting plasterboard

Boxes & Packaging

Opening boxes
Bubble wrap
Cutting through heavy duty vinyl tape
Cutting export material for overseas wrapping
Opening 5 ply payer blankets
Dennis Shaw – Carpet and Flooring Fitter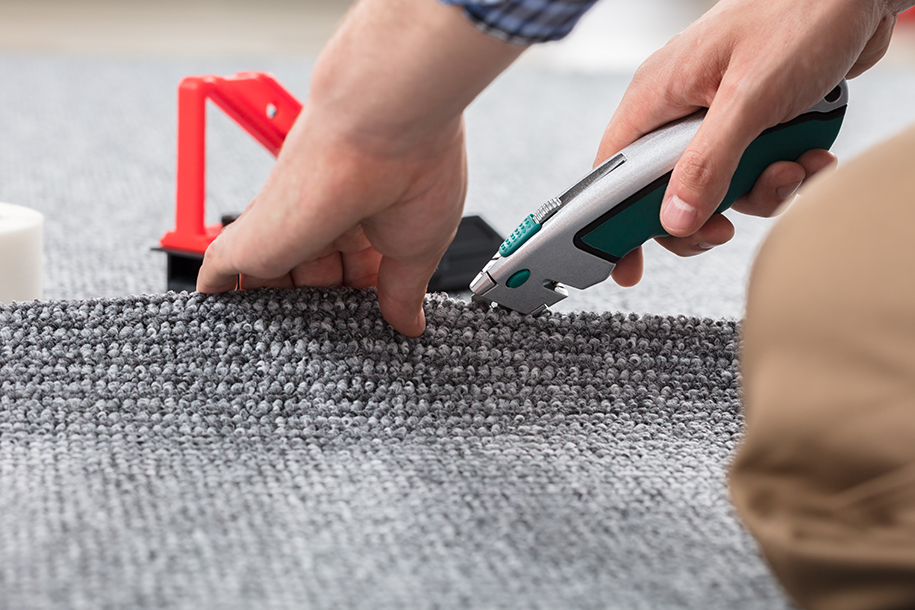 Different types of flooring requires different types of blade so we generally work with three profiles: a hook blade, a flat edge blade and a concave blade.
For safety flooring I prefer to use a hook blade because the tough material requires more pressure to cut through it. The strength of the blade makes it safer and helps prevent accidents.
For carpet, carpet tiles and underlay, I would choose a straight blade to get a straight, precise cut. These blades are easy to handle and are good for general use as well.
Concave blades tend to be sharper with a finer edge and so I prefer to use these for vinyl. When cutting a luxury vinyl tile you need to be extremely accurate, with a clean, straight line so this type of blade would be my preferred choice.
Jewel Blade says
"As an expert fitter, Dennis demonstrates that different blade shapes may be needed depending on the type of flooring being cut. In all instances, a sharp blade is essential and a reinforced blade preferable for tougher materials such as safety flooring."
Jewel Blade recommends:
When using blades that require a higher level of precision in the cut, we recommend using our XL Premium Silver range. These are standard industrial blades but with additional carbon steel cutting edge that is up to 4 times sharper than our standard blades. For flooring applications needing a tougher blade, then our XL Premium Gold range is the perfect choice as it enjoys up to 8 times longer lifespan than a typical standard blade.
Did you know?
The XL Premium Silver range uses the latest grinding technology to ensure precision razor sharpness when in use.
Tim Taylor – Landscape Gardener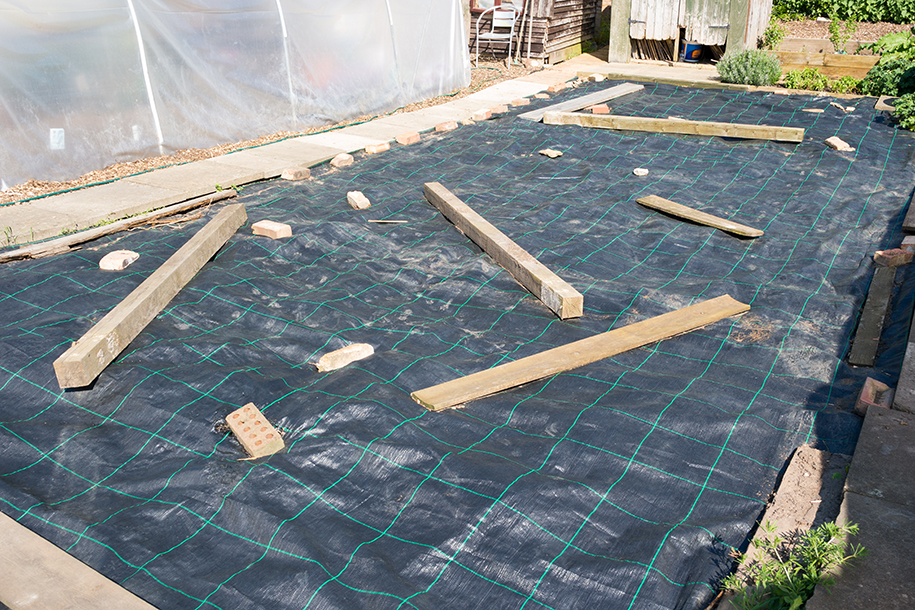 I regularly use straight utility trimming blades within my day-to-day work, both for construction (decking and fencing) and general use, such as opening packaging, cutting strimmer cord or slicing landscape matting.
When laying decking I use the blade to trim any splinters off the edge of decking boards and smooth away any ragged wood. This creates a tidier edge and also helps prevent the splinter from ripping down the wood.
I also find this type of blade essential for slicing weed/landscape membrane.
Tips for cutting membrane with a heavy duty blade include:
Change the blade regularly - a blunt blade will cause the membrane to snag, which will pucker the material, causing a fringed edge with trailing fibres.
As this material can slide around it is helpful if you can get someone to hold it taught as you make the cut to ensure a straight line. Alternatively, weight down the corners with rocks or heavy objects.
It is usually easier to cut the membrane directly on flat earth or grass, press hard so the blade cuts through the matting and into the ground to help ensure a straight cut. Make sure you thoroughly clean any soil off the blade when you have finished.
Jewel Blade says
"When cutting tougher materials such as membrane, a toughened yet sharper blade can maintain control, reduce cutting effort and the chances of the blade itself breaking."
Jewel Blade recommends:
For tougher material applications, we recommend our XL Premium Gold range. Our XL Silver is also suggested should you be cutting stubborn materials that can easily snag and fray such as membrane and matting.
Did you know?
Titanium Nitride (TiN) Coating used for our XL Premium Gold range improves wear resistance and extends blade life.
Robbie Wood – Picture Framer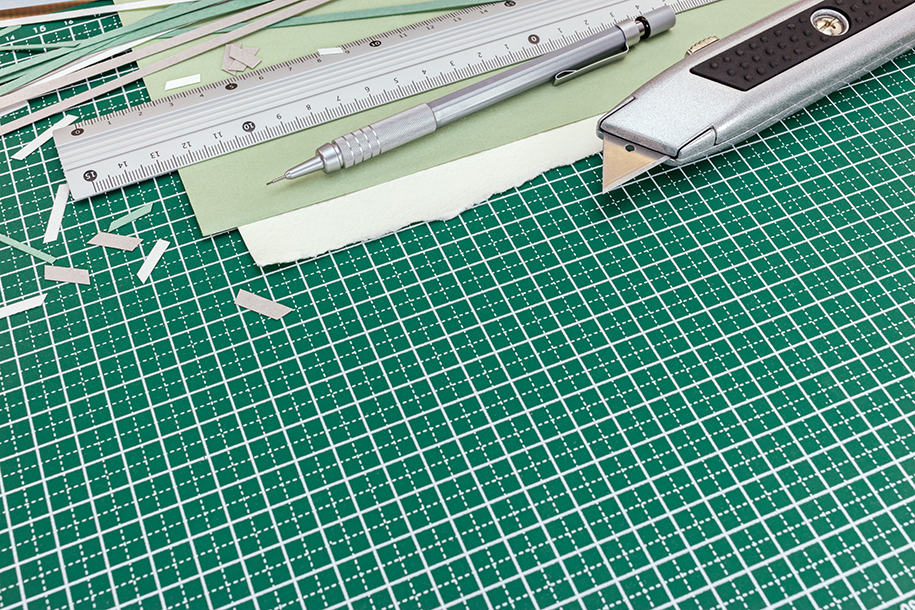 I use straight utility trimming blades on a daily basis for cutting cardboard picture mounts to size. I also use them to trim original artwork so it is essential that the blades are fresh and sharp to make precision cuts.
Using a blade that is even a tiny bit blunt can cause the paper to pull and even tear so I use a fresh blade every day. A good tip is to check the tip of the blade each time you use it as the tip can sometimes snap off after cutting through lots of cardboard.
I also use a computer programmed mount cutting machine, which uses super-sharp straight mount cutter blades. These need replacing on a daily basis to ensure they retain their sharp edge.
I have a separate blade for opening parcels and packages - it doesn't matter so much if this blade isn't quite as sharp.
Jewel Blade says
"For Craft applications, then a medium duty blade may also suit but it depends on the thickness of the material being cut."
Jewel Blade recommends:
Where consistent cutting edges are essential, you might find our XL Premium Silver products gives you the extra edge you need produce stunning work for your clients. Reduce snagging and enjoy crisper finishes on your artwork.
Did you know?
Our XL Premium Silver range of industrial blades are proven to be up to 4 x Sharper than standard blades.
Jim Broomhead – Property Developer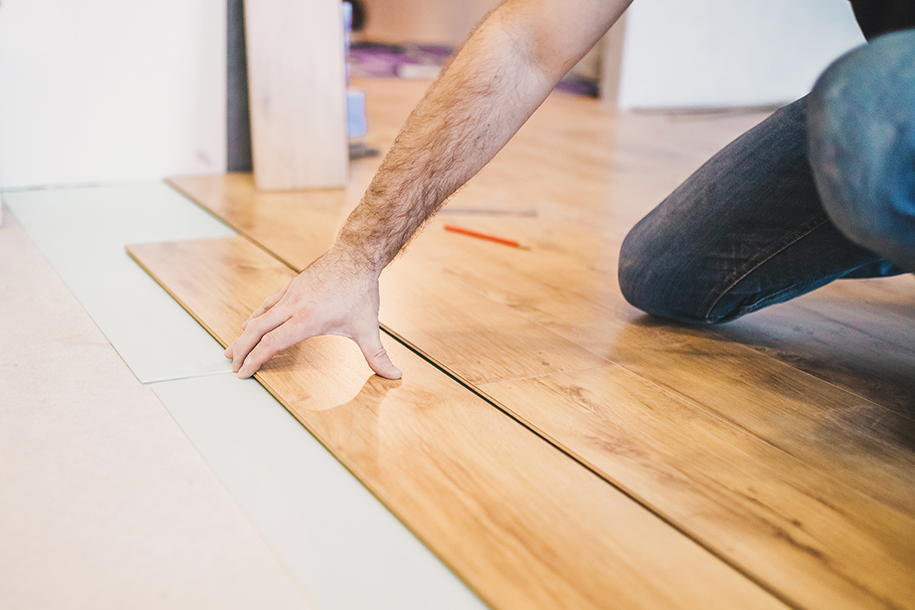 I'm a carpenter and joiner by trade but as a property developer I get involved in all manner of maintenance projects from general DIY to carpet fitting.
I use a snap off blade as one of my staple tools and use it for multiple uses, such as opening packets, cutting silicon sealant and even sharpening pencils. The flat, broad side of the blade is also good for scraping off paint.
I prefer these blades because you don't have to mess about replacing the blade as often, when it gets blunt you just snap it off and start again. I get through a fair amount so, where possible, I buy them in bulk.
I find snap off blades particularly useful for cutting through 4mm ply, the blade is sharp enough to score right into the plywood so I can then snap it. This saves time and gives a cleaner line than using a handsaw.
I also use hook blades for fitting carpets and vinyl or rubber flooring. The hook makes it so much easier when cutting around pipes or awkward corners. On occasion, I have also used this type of blade for stripping wire.
Jewel Blade says
"We often find that customers have a 'go to' blade that serves them for multiple purposes. In general however, it is best to pick a blade / knife combination for each application that the blades will be used for."
Jewel Blade recommends:
If you are using industrial blades across many applications, our XL Silver range may help improve the general quality of your work and reduce the time spent changing blades.
Did you know?
Due to a decreased amount of blade drag with enhanced slip factor when cutting through the toughest of modern day materials, XL Premium Silver reduces user handling - which in turn reduces the risk of accidental injuries and tool downtime.
Hadyn Leon – Construction Specialist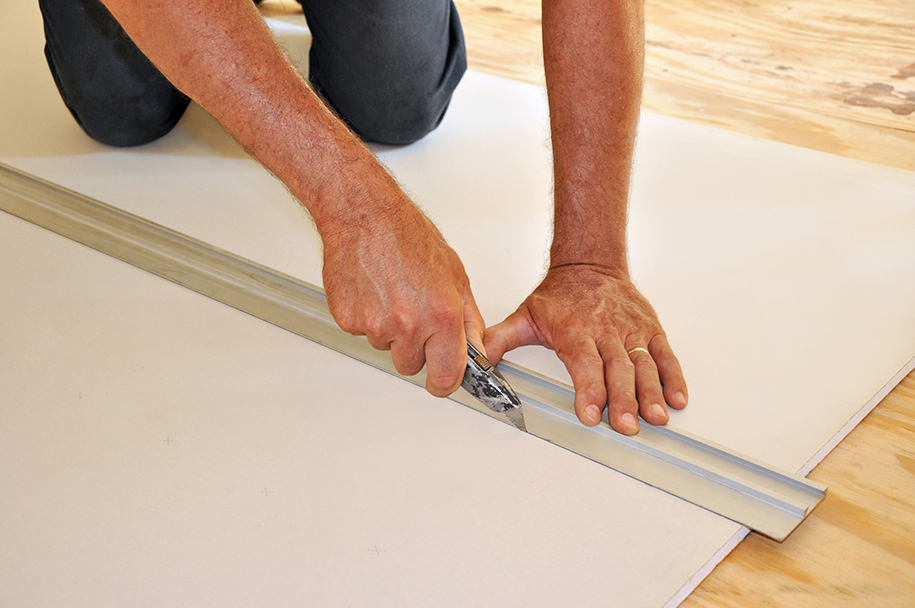 I use basic straight utility blades for day-to-day use. They are handy for small jobs such as opening silicon tubes, opening packaging and sharpening pencils etc. but I also rely on them for bigger tasks. I would use this type of blade for cutting roofing felt, damp proof membranes and DPCs and they are really handy for slicing through the thick plastic straps that surround pallets of bricks.
The shortness of the blade make it a useful tool for cutting plasterboard as you can score through on one side, bend the plaster board and then finish the cut on the reverse side.
This type of blade is also good for cutting roofing material, be that roofing felt or rubber. The rubber roof system is much easier to fit than traditional fiberglass, especially as you can use a blade rather than a saw to cut it. I measure and mark the roofing material in situ so the blade needs to be sharp, accurate and easy to handle. When you are holding on with one hand and cutting with the other you need to be working with reliable tools!
When working at height it is essential that you have a sharp blade so that you can get the job done as efficiently as possible. A blunt blade isn't as accurate, takes longer to make a cut and can cause accidents. You need a good quality blade that won't quickly become blunt when working on a roofing job as you don't want have to get down to change the blade mid-way through the job. I would much rather use a more expensive, quality blade than have to keep stopping to replace the blade.
I would also use a retractable, flat edged blade for cutting insulation. It is not the most pleasant material to work with so having a sharp knife to quickly cut through the fiberglass makes a big difference to the speed and accuracy of the job.
Jewel Blade says
"We can only echo Haydn's comments. A good quality blade is essential in most scenarios but specifically when working in challenging environments –such as rooftops and lofts."
Jewel Blade recommends:
Being caught on a rooftop or loft with blunt or damaged blade is a potential safety issue and as a minimum, may mean forced delays in completing work due to frequent blade changes. For tough durable blades then our XL Premium Gold blades may be perfect for your company given they require up to 8 times less changes than a typical standard blade.
Nigel Shaw – Home Removals expert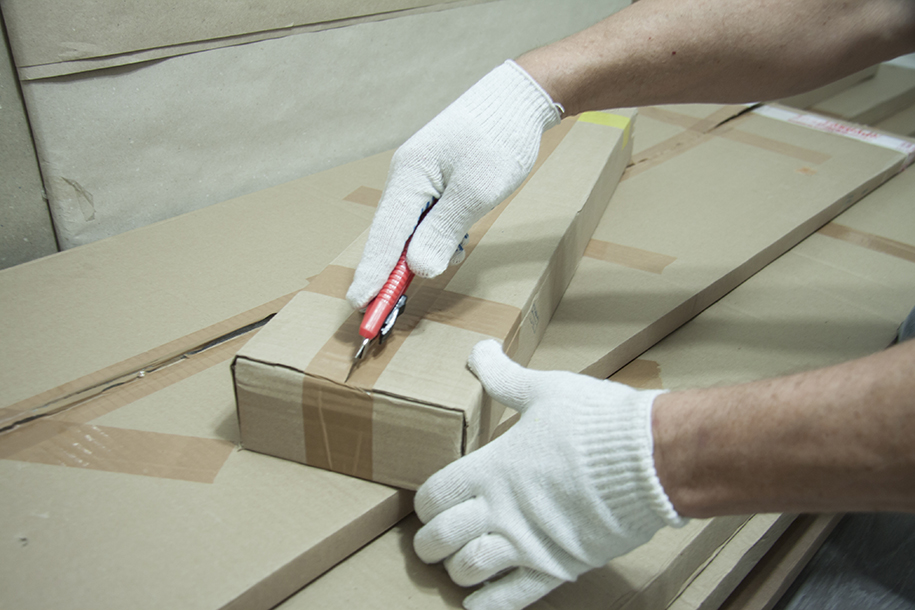 We use retractable heavy duty blades on a daily basis, plus enclosed tape cutting blades. The knives we use need to cut through a lot of thick cardboard, heavy duty packing tape, bubble wrap, 5 ply payer blankets and padded wrapping paper so they have to be hard wearing.
It's crucial that the blades remain sharp so they cut through the packaging easily, you don't want to risk having to press too hard and damage the contents inside. Retractable blades are essential to prevent accidents for both the workers and also the goods that we are handling, especially as we tend to keep the knife about our person as we go in and out of properties and up and down stairs etc.
Jewel Blade says
"As Nigel points out, a sharp cutting edge can be important to avoid damage to customer items inside packaging. It can also reduce the risk of damage caused by unnecessary additional force."
Jewel Blade recommends:
When using blades that require a higher level of precision in the cut, we recommend using a blade shape from our XL Premium Silver range. These are standard industrial blades but with additional carbon added to the blade for increased durability and sharpness.
Did you know?
The XL Premium Silver range is up to 4 times sharper than a standard industrial blade and specifically designed to provide a sharper cutting edge for longer.
---
Why is the quality of the blade so important?
Cheap blades tend to quickly become blunt and need replacing more often than quality blades.
A blunt blade can drag through the material resulting in a rip as opposed to a precision cut.
When cutting to a specific size a 'dragged' edge often means that the material needs re-cutting, creating wasted material and labour.
Repeatedly changing a blade can be time consuming and will interrupt the progress of the job in hand.
If a blade snaps it is likely to cause damage to the material that is being cut. A snapped blade could also cause considerable injury to the user.
Cuts can be longer and speed up the work at hand.
Customers are less likely reject work and make complaints over workmanship.
Paul Finch NICF Master Fitter
"The XL Silver's razor sharp cutting edge provides an improved quality feel when cutting. The blades glide through carpet with precision and ease allowing you to apply less force reducing squashing and pile distortion for a better seam/joint finish. 
With a sharper blade edge you get a smoother cut that requires less effort reducing strain and providing more control when freehand cutting and scoring allowing you to make longer, more accurate even cuts without having to stop and restart. Overall you can get the job done quicker and to a superior standard."
---
Buying blades online
Our experts all said that they purchase their blades in bulk from specialist online suppliers. It is important therefore to look for good customer reviews to ensure that you are ordering a quality product.
"I always go for quality rather than quantity when buying blades, cheap ones tend to go blunt straight away so I get them from builders merchants rather than general on-line retailers." Hadyn Leon
COMPLAINTS: When Buying Blades Online
From our own research, here are the top 5 complaints made when buying industrial blades online:
The blades blunted quickly.
Not value for money.
Frequent replacement needed.
The blades tore or damaged the material.
Blades were not as sharp as required.
"These types of complaints resonate with the advice provided by our experts and how essential it is to conduct research into blade quality before buying from any supplier."
Should Or Can I Buy My Blades Locally?
There is no guarantee a locally purchased blade will serve you any better than an online supplier. If you do plan to purchase locally and need help or advice we would of course be delighted to help. Please get in touch at enquiries@jewelblade.com.
---
Expert tips on caring for your blades
Top tip for getting the best out of your blades:
The most important piece of advice for caring for blades was unanimous across all trades: Keep them dry!
All experts recommended drying the blades after use, particularly knives with retractable blades in order to prevent them from rusting inside the knife handle.
Top tip for keeping blades dry and rust free:
Keep sachets of silicon gel (often found in shoe boxes or packaging) in your toolbox. They withdraw moisture from the air, which helps prevent blades and other tools from rusting.
Tim Taylor – Seeds and Sawdust
Expert tips on blade safety:
Use a retractable blade so it can be tucked away when not in use. I keep mine in a pouch on my belt so that it is handy but also safe.
Karl Murray – Master Plumb
Always use a sharp blade. A blunt blade can cause you to be less vigilant – that's when accidents are more likely to happen.
Tim Taylor – Seeds and Sawdust
Top tip for storing spare blades:
Some knifes have a space within the body of the handle designed to safely store spare blades. Alternatively, keep spares in a securely fastened, sturdy box. Beware of storing blades in a box made from cardboard or a lightweight material where sharp edges could cut through.
Jim Broomhead – JB Property Maintenance
Top tip for disposing of heavy duty blades:
Blades need replacing regularly, but once removed, it is essential to dispose of them carefully. Folding thick cardboard around the blade and then binding it in tape can help ensure that sharp edges are protected and won't cause any damage once disposed.
Hadyn Leon – Stone7
Why Choose Jewel Blade products?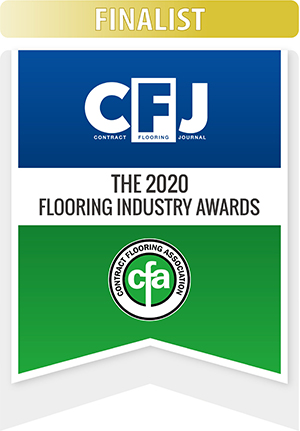 A high quality cutting edge and consistency from an ISO 9001 registered manufacturer.
XL product ranges designed to improve the cutting edge and longevity over and above standard medium and heavy duty blades.
Fewer blade changes, increased safety and lower tool downtime.
Better and potentially faster finishes in your work.
What the industry experts say:
"You can immediately feel the difference between the standard blades and the XL Premium Gold."
David Russell,
Floor Covering Inspector
CP Assessments
"The XL Premium Gold Concave blades are superb when cutting 6mm Plywood; they keep their tip and edge really well in comparison to the standard blades."
Steve Ramsden
Master Fitter & President of NICF
"The XL Premium Gold Concave blades are ideal for use on Heavy Duty LVT. This is where it becomes more evident that the blades are longer lasting."
Paul Finch
Master Fitter, NICF
FAQ's
I would like to distribute Jewel Blade Products
For trade enquiries, please do not hesitate to contact us via our Contact Form or by email enquiries@jewelblade.com
Do you have a catalogue?
Yes, you can download our catalogues by clicking the below links (PDF):
Professional Blade Range - Download PDF Brochure
XL Premium Range - Download PDF Brochure
Professional Knives & Cutters - Download PDF Brochure
Can I get more information on your XL Range?
Yes, you can take a deeper look at our XL Silver and Gold products here.